Our Newport News Veterinary Clinic is Famil y
Our Newport News veterinary clinic, Deer Park Animal Hospital has been in operation since the 1980s, and was taken over by Dr. John Savell in 2003. Our veterinary hospital has continuously worked to provide top quality surgical and dental services to pets and pet owners in the surrounding areas of Yorktown, Poquoson, Glouchester, Williamsburg and Hampton.
While we have always been a complete service hospital, we have decided that we are making a greater impact in the health and well-being of pets providing them with care that they would either not receive or be euthanized. For this reason in 2017 we are making the change to a surgery and dentistry only practice.

Deer Park Animal Hospital offers advanced care in our state of the art facility. Our staff is, in a very real sense, family. Dr. Savell and his wife, Karen are a husband and wife team who are highly qualified and dedicated to assisting you and your pet with all your veterinary surgical needs. We understand that your pets are literally part of your family. That is why we say that we are a family helping families.

Dr. John Savell obtained his degree in Veterinary Medicine from Louisiana State University in 1992. He first practiced in Lake Charles, Louisiana for 6 years, before moving to Hampton and practicing another 5 years. After that, he took over here at Deer Park Animal Hospital.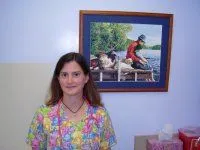 Karen Savell is licensed as a Veterinary Technician (LVT) since 1990. She graduated from Northwestern State University and is originally from Lake Charles, Louisiana. She has had extensive experience since she began administering veterinary care and is highly qualified in pet dentistry, anesthesia, radiology, and other non-invasive procedures.
Carolyn Green, native of Ashville, NC and is a receptionist and Office Manager here at Deer Park. She's got a degree in Early Childhood Education and worked at a nursery before starting to work with the "furry kids". She is married to Donald and has 3 grown children, Donald, Adam, and Lisa. Her hobbies include reading, shuffleboard, and Arts and Crafts.
Newport News Veterinarians Offer Advanced Care at our Animal Clinic
Our veterinary hospital is a high-tech animal clinic that also strives to create a warm and welcoming atmosphere for you and your pets. We have Accuvet CO2 Laser surgery, Laser Therapy, Digital Radiography, EKG, in-house lab equipment, and ultrasound equipment, just to name a few of our technologically advanced services. We are one of very few veterinary hospitals that offer laser surgery, which ensures a quicker recovery time and provides a much more comfortable experience for your pet.

We also offer pet dentistry using ultrasonic cleaning equipment. Our appointment process can be done digitally, which makes making our veterinary clinic family a part of yours much more convenient for you.

If you are interested in knowing more about Deer Park Animal Hospital and live in the Newport News, Hampton or surrounding areas, please browse around our website for more information. If you would like to take a tour of our veterinary hospital please stop by and we would be happy to show you our facility. We are a family helping families, and we look forward to helping yours. Call us at 757-595-9720 to make an appointment today.