Welcome to the clinic tour! We are more than happy to have you come see us in person so we can show you around, and if you can't, here's the virtual tour of our home away from home!
Reception area-We've fixed it up where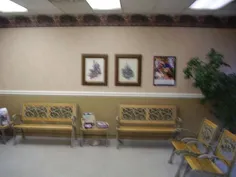 you and your fuzzy children can get comfortable for the wait to see the doctor, but don't get too comfortable! Since we try to operate on an appointment basis, you'll rarely have to wait more than five minutes for your pet's care.
Our in-house laboratory allows us to do many blood tests on-site so you
don't have to wait for results another day. Extremely useful for those emergency cases where treatment is needed right away. This equipment will get us results in minutes instead of tomorrow.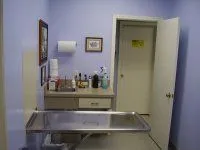 The dog exam area has been renovated as well to make our canine's comfortable! Decorated with doggy border and painted a nice soothing blue. We have seperate dog and cat exam rooms so that communicable diseases can't be spread from animal to animal should something contagious come in to visit us. If that should occur, the exam rooms are switched. The cats will go to the dog room and the dogs will go to the cat exam room for the day. Although the exam rooms are thoroughly sanitized between each and every patient, we always want to take extra precautions.
The cat exam room is renovated to contain some nice kitty border and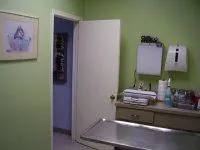 soothing light green paint. The same goes for kitty diseases as for dogs. Since most of these conditions do not affect dogs and most doggy germs don't affect cats, we switch rooms when we know contagious diseases have found their way to us in our exam rooms.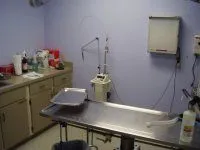 The surgery suite is renovated and updated as well. We've installed a cauterizing unit and brought in a lot of extra surgery equipment. Dr. Savell is able to perform many soft-tissue surgeries such as cystotomies to remove bladder stones, excision (removal) of neoplastic (cancerous) growths, urethrostomies, ophthalmologic surgeries, surgery to correct upper airway obstructions, selected intrathoracic surgery, gastrointestinal surgery to remove foreign bodies or diseased tissue, intra-abdominal surgery to collect biopsies or to remove or repair diseased or damaged organs. We are able to do numerous orthopaedic procedures, including pinning and wiring of broken bones, knee surgeries to fix luxating patellas, knee surgeries to stablize the joint after tearing a cruciate ligament,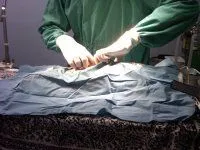 and so on. We do all our surgeries using the CO2 laser unit. Please see the special portion of the site that details the advantages of laser surgery. We perform post-op treatments with our therapy laser to hasten healing and to minimize pain and swelling, and all surgical patients receive intraoperative, postoperative, and take home pain medication that varies upon the procedure performed.
The reception area is where we greet YOU! If you're nice to our
receptionists, they'll give your pet a tasty treat. This area was renovated as well. A nice coat of paint and an attractive place for the client files and reception supplies makes this area look inviting.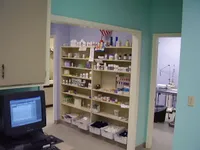 We have an in-house pharmacy area equipped with antibiotics, antiinflammatory medicines, etc. to keep you pet feeling their best. Most of the time, there is no need to take a little piece of paper to the pharmacy. We have it here!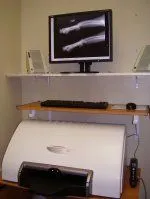 Digital X-ray system- We no longer have to worry with caustic chemicals to develop films. Now it's all digital! This highly specialized equipment allows to take high resolution images, send them off to specialists in a flash or burn the images on a disk for you to take home.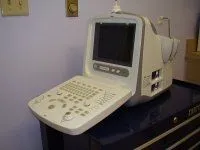 Ultrasound Machine- Our new ultrasound machine lets us see images that x-rays cannot detect, like heart valves, circulation in the liver, gall bladder, and other soft tissue studies.