LASER SURGERY FOR YOUR PETS!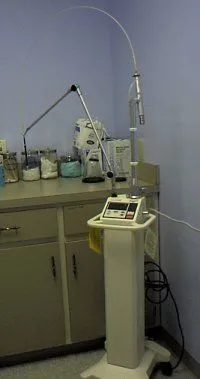 The Accuvet CO2 Laser is now an integral part of our surgical suite. We are one of only a few in the area using lasers for surgery. Call us for more information about the gentler, kinder way of performing surgery for your pets!
Less swelling, less bleeding**LESS PAIN**
If you would like to know more about Laser surgery for your pets go to
http://www.aesculight.com/state-of-art-laser-surgery.php
Why should I consider LASER SURGERY for my pet?
The Laser Surgery technique provides considerably less post-operative pain! Which means quicker recovery time. How does it do this? When the laser is used, as it's working it seals off nerve endings and small blood vessels which result in less pain and less swelling after surgery.
Learn more about the CO2 Laser at
http://www.aesculight.com/state-of-art-laser-surgery.php